So, as novel as it may seem, I partake in sometimes selecting the movies I watch via the collection of short reviews known as 1001 Movies You Must See Before You Die and its genre spin-offs. There are some entries I disagree with, some I was pleasantly surprised at, a great deal I am totally in support of, and then a lot more discoveries I've never known to have existed. It's a great piece to keep track of for a cinema aficionado like I.
The book continuously updates with the times, adding and removing entries. To this day, it has had 1103 entries. I can't count how many I have seen. However, I have noticed the newest sweep of movies added to the 2012 edition. They are as follows.
Senna (Kapadia, 2010)

Le Havre (

Kaurismäki, 2011)

Shame (McQueen, 2011)

The Tree of Life (Malick, 2011)

Le Gamin au V

élo [The Kid with a Bike] (Dardenne/Dardenne, 2011)

The Girl with the Dragon Tattoo (Fincher, 2011)

Tinker Tailor Soldier Spy (Alfredson, 2011)

Drive (Refn, 2011)

War Horse (Spielberg, 2011)

جدایی نادر از سیمین [A Separation] (Farhadi, 2011)

Bridesmaids (Feig, 2011)

The Descendants (Payne, 2011)

Hugo (Scorsese, 2011)

The Artist (Hazanavicius, 2011)
I will only be reviewing the pictures I have seen and I will be doing them in short paragraphs in order to wrap down the possible reviews (most of them I only have little to say, unfortunately, but it also allows for this efficient style of sweep-reviewing). The movies I've seen are The Tree of Life, The Girl with the Dragon Tattoo, Tinker Tailor Soldier Spy (which I actually just saw a few hours ago), Drive (in my DVD collection), The Descendants, Hugo and The Artist (also in my DVD collection).
The Tree of Life
Terrence Malick is always given his due as an extraordinarily visionary director. I'm still in awe over Days of Heaven. His cinematography just flaunt the fact that he will not settle for less than perfect. The tale is not as perfect, however. It seems a hammered-down pretension of supposed universal truths. Certainly ambitious, but not totally encompassing as it hoped to be. Prometheus (Scott, 2012) and The Fountain (Aronofsky, 2006) are both pictures that left more than a few questions left unanswered and yet still attacked their subject hard enough to have the audience dig on their own. The Tree of Life was a bit more tedious in this aspect. However, I do appreciate its inclusion in the list and give it an 8/10.
The Girl with the Dragon Tattoo
I can't outright say this movie was bad. But I don't see it's inclusion important. As a story, its theme in the unfair treatment of women in Sweden (and other countries) is quite an issue to tango around with, and it brutally makes us face these facts. But the story also seems more than half self-indulgent on the part of the late author, Stieg Larsson. In addition, the remaking was just a 'Let Me In' style job, only this time on a movie I didn't care about in the first place. Despite preferring the relationship between the two leads in the Swedish version, I preferred the American picture more unashamedly. But there are problems with the fact that the delivery was too polished (even with great performances from Rooney Mara and Yorick van Wageningen) and the fact that this is an inherently Swedish tale that should have been left Swedish and it leaves me feeling sort of like this movie shared the pointlessness of The Amazing Spider-Man and the Star Wars prequel trilogy, despite its cinematic merit. I do appreciate that, despite the attempts to not have the film Americanized, most of the actors felt smarter than hashing about a poor Swedish accent and chose to use their real voice.
I give it a 6/10.
Tinker Tailor Soldier Spy
Much like Kurosawa's Ran, the length of the picture proved tedious but eventually proves by the third act to be incredibly rewarding an experience. With the exception of Harry Potter and the Prisoner of Azkaban (Ironically the only Harry Potter movie I enjoy), I never am disappointed by Gary Oldman's delivery in any movie, good or bad. But he's equally supported by an intelligent and intense actors, like Tom Hardy, Mark Strong, Toby Jones, Benedict Cumberbatch, John Hurt, Toby Jones and so on. A story that plays off like a game of poker the way this does relied on the performances to hold off the secretive atmosphere and it pulled this very well off. I do have a supposition, though, as to the choice of director, Tomas Alfredson (director of Let the Right One In - speaking of Let Me In from the previous review) is a Swedish filmmaker. Before he was hired, Park Chan-Wook, a Korean filmmaker and one of my favorite directors, was offered the director's chair. It seemed like they focused on a foreign eye for this picture (possibly for a center on shot construction rather than the usual 100% dialogue and acting focus most British filmmakers tend to give), which is somewhat weird given that this is, much like Dragon Tattoo is a downset Swedish story, Tinker Tailor Soldier Spy is a British story. It would also hinder the production aspect, since I doubt the British government would give to much access to a non-citizen.
I give the movie a 7 out of 10 and have no opinion towards its inclusion in the list.
Drive (My Favorite Movie of 2011)
Oh hell yes, this movie was an experience, both entertaining and uncomfortably psychological. Ryan Gosling's brilliant performance gave his unnamed character a balance of creepy and fascinating that made us fear what was the next thing he was going to do. It's a romantic film in a sense as well, since despite the bad things he does all over the movie, it's only to make sure Carey Mulligan's character and her son live an easy life free from all the organized crime her husband dragged into their home. Albert Brooks, whom I'd only been familiar with previously for Finding Nemo and The Simpsons, matched Gosling's monster by showcasing a sympathetic, remorseful villain who hates what he does, looks forward to leaving his crime behind and becoming legit, but finds himself unlucky and having to take care of business. And Ron Perlman, my oh my, I love this actor in everything he does. But I have never seen him so pathetic and so useless, he's a screw-up trying to prove himself a gangster in all the wrong ways.
Nevermind the elements of cinematography and editing that give us a familiarity and then reel us back in horror at the events of the movie. The first half, every moment with Bryan Cranston's character or between the Driver and Irene was just shot as such a personal level, we love these people. And then the real violence begins and we figure out this was not the character we thought the Driver was. And if you're not hooked into the movie by the very first car chase scene, you, sir, are just a lost case. 'Course the soundtrack was a bit off-putting... but hey, at least they picked some funky tracks.
I give the movie a 9.5 out of 10. And in case you couldn't tell, am extremely enthusiastic about its entry.
Wow, this was longer than I thought it'd be.
The Descendants
This was a pleasant surprise of a movie. I started watching it not knowing at all what it was about. But it was a very warm picture that gently and humorously delivered a message of forgiveness and coping with loss. The two young lead actresses did really well and George Clooney has a habit of selecting stories to tell that are engaging no matter how ordinary they may seem. The character of Sid (who I could've sworn was Beans from Even Stevens - but it's not) sort of was annoying, but he proved his use. What really surprised me, other than the masterwork of a script (good on you Payne, Faxon, Rash and Hemmings!) was Matthew Lillard's performance. For an actor whose notable roles lie primarily on a method of subtle exaggeration, his performance was human. Absolutely human. It's not surprising that he can act - SLC Punk! has proven his stripes, but that he can elicit regret and get sympathy from the audience without trying to be funny or do some sort of standard actor method was very impressive.
I give the movie an 8 out of 10 and support its addition.
Hugo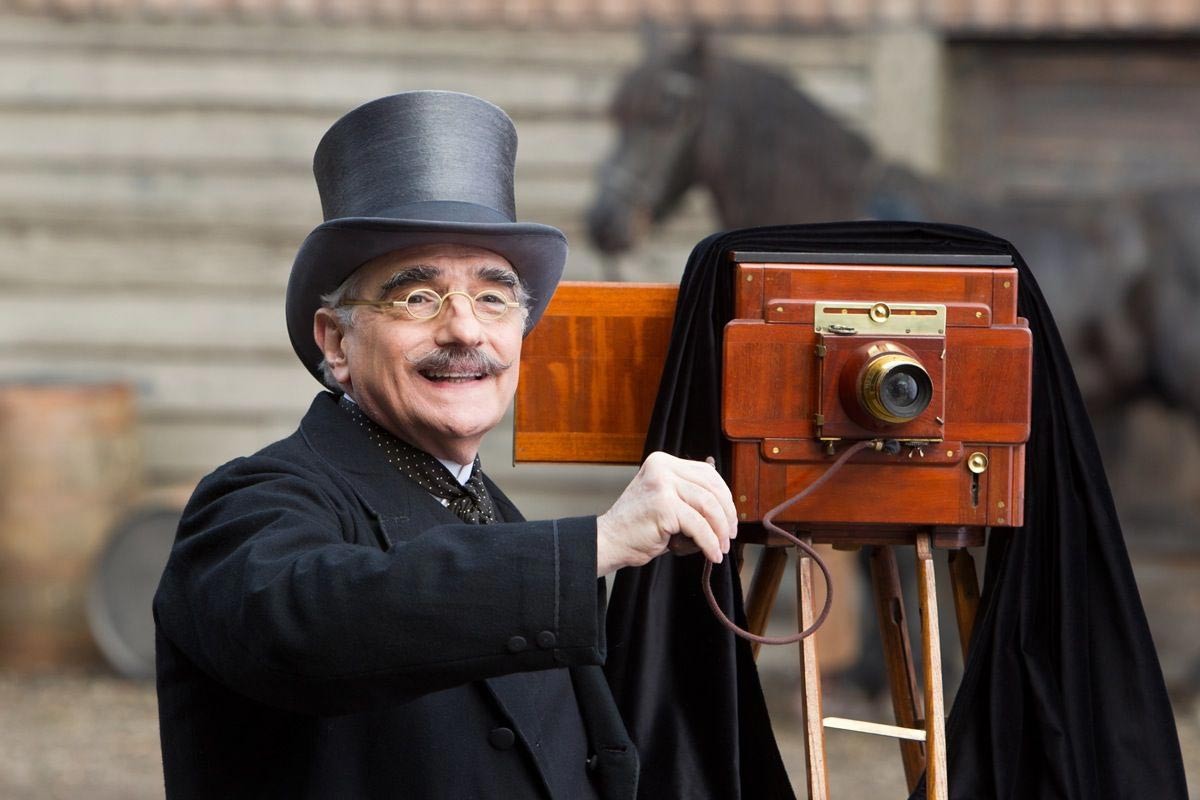 I have a cinephile crush on nearly everything Scorsese does. He seems without a doubt the most versatile filmmaker I can see around. Most other master filmmakers have a signature that signifies the movie in question is of their making. Scorsese doesn't make it that obvious. However, there is something outright about Hugo that does not make it seem even remotely a Scorsese picture. This may be due to the fact that the movie is intended not just as a tribute to Georges Melies, the father of cinema, but to the imaginations and efforts of filmmakers everywhere. It's a magic realism, a fantastical adventure grounded in and around a train station, so it mythologizes the focus of the picture a whole lot more. I regret however that I have not been able to see the movie in theaters and so have not seen it in its full 3D potential. One day. Maybe they can recut it without Sacha Baron Cohen (even though I like him as a comedian), he was a little bit too much of a silly aspect, even with their attempt around the third act to give him some sympathy.
I give the movie an 8 out of 10 and support its addition.
The Artist
Unless the movie is pretty terrible (*cough*Shakespeare in Love*cough*), it's usually inevitable that the Best Picture winner will be included into this list. Which in this particular case, is fine by me because The Artist is quite a blast. I'm always welcoming to a movie about Hollywood and what it was built on, whether positive (Hell yeah, Singin' in the Rain) or pessimistic (Hell yeah, Sunset Boulevard). This movie is not on any substantial level of legacy just yet, but it can certainly give the Test of Time a hell of a shake. It's energetic, it's challenging, it's a story of ups and downs and it features a great animal star this side of Lassie. Jean Dujardin himself is probably the greatest thing to happen to the movie, despite its many great other talents, showcasing his several skills of expression and dance the same way a skating video displays the great heights of its star's abilities. It's Hollywood, man.
I give this movie a 9 out of 10 and support its addition.
Anyway, those are the ones I've seen so far. I've been very much meaning to see Shame and A Separation. I am somewhat surprised of the inclusion of Bridesmaids. I suppose it's the Hangover-effect of such a raunchy comedy to take back the genre from the tween-friendly PG-13 ratings, sprinkled with real breakout comedic work. But, I don't know, I'll probably need to see it first. Just glad Extremely Loud and Incredibly Close isn't added. Odin, that was Oscar-bait.
Additions I would've considered myself.
악마를 보았다 [

I Saw the Devil] (Kim, 2010) - For being one of the most intense non-horror pictures I've ever seen, a study in where the means justify the ends of revenge, emptiness and the return of the uncanny Min-Sik Choi to the mainstream acting of South Korean cinema.

The Green Hornet (Gondry, 2011) - For its stylistic treatment and irreverent atmosphere of a source material some would already call hokey.

Source Code (Jones, 2011) - For re-defining how modern audiences treat the science fiction genre and reorganizing its structure of plot and time as a sort of 'video game' for lack of a better word.

Hesher (Sussman, 2011) - For being a vulgar picture with heart and the lead character portrayed by Joseph Gordon-Levitt.

Super 8 (Abrahms, 2011) - For its throwback to Spielberg and its point of view towards a normally frightening situation turned to childlike fascination.

Midnight in Paris (Allen, 2011) - A novel invention and creative story delivered from our favorite neurotic, Woody Allen.